Search Results
Navigation:

---

View Results By...
Series:

All (9)
Cheese Portraits (9)

Sort by:
View Artwork:

---

Return to...
Series:
Off Kilter
oil on wood, 8x10"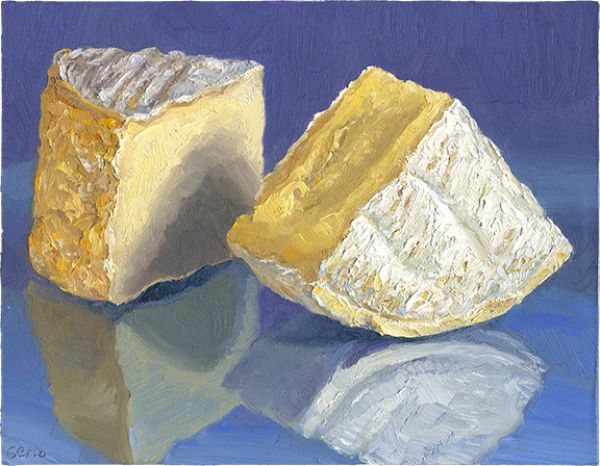 This is "a beer-washed beauty", according to the cheesemaker, Dylan Stanfield who sent this to me. His kindness included FOUR of his cheeses and another THREE miniature cheese wheel sculptures that he made via "Tiny Cow Creamery". If you've not seen his art, check it out! on instagram: Tiny Cow Creamery

This cheese is special to him. It's won 2nd place at the 2014 World Cheese Championships, in its class! After tasting it and having it melt in my mouth like glorious butter, I can see why.

From Mt. Townsend Creamery's website: "A Salish Sea inspiration, we take our semi soft-ripened cheese and wash it with Pike Brewing Company's "Kilt Lifter" Scotch Ale. The result is pungent and earthy with a sweet malty finish. As a member of the washed rind family of cheeses, Off Kilter steps toward the "stinky" end of the spectrum, but finds the perfect flavor balance. " Their cheese reflects the wonderful flavor "terrior" of the Port Townsend, Washington landscape.
Country of Origin: USA, Washington
Price: $600