Navigation:
Show Series:
Sort by:
View Artwork:
Weanling Button
oil on wood, 12x6"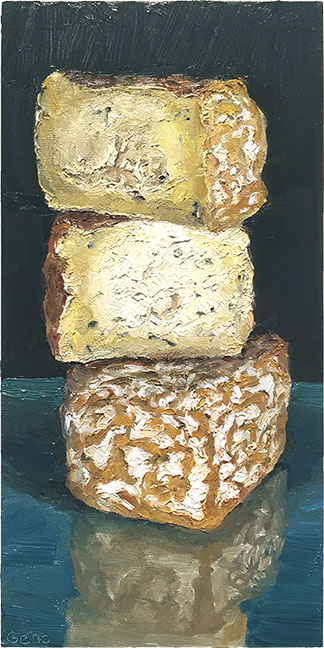 From the Cheese Portraits series.
I've grown quite fond of the folks at Boxcarr Handmade Cheese, in North Carolina in a short time. How could I not, considering that they went out of their way to visit my studio on a road trip to drop off some amazing cheese for me to paint (Rosie's Robiola is heaven). Then they sent me even more!

These buttons were too cute to resist and I was very curious about their specks of dark green. Apparently Samantha, the cheesemaker, loves her goats, especially the saturated cuteness of weanlings. When the baby goats are weaned, they start to eat the grasses, weeds and wild onions which gives them "sweet, wild onion" breath. Naturally then the addition of chives came to mind in these little buttons and they're simply delicious! I had fun stacking them and working on this totem of cuteness.

Here's the full cheese story from their own very well done website
Hopefully, their cheese will be in markets near you soon!
Origin: USA, North Carolina
Availability: sold
Items Available for Purchase: