Navigation:
Show Series:
Sort by:
View Artwork:
St Malachi Reserve
oil on wood, 8x8"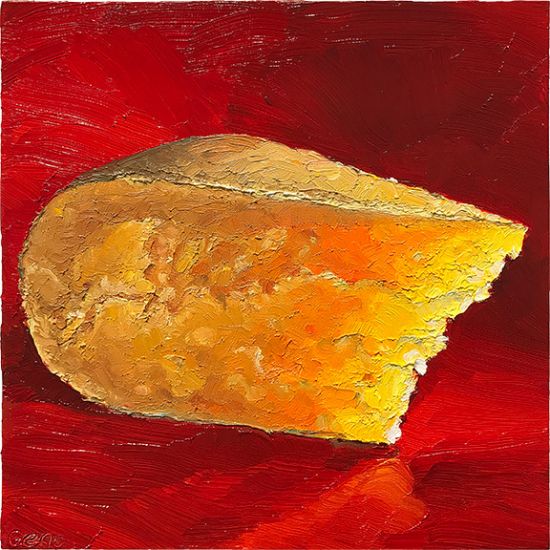 From the Cheese Portraits series.
This is the 2016 Best in Show (tied for 2nd) winner of the American Cheese Society annual conference and competition. Ranked 2nd of all the 18 hundred cheeses entered into the completion, this is the first Best in Show for my home state of Pennsylvania!

The Farm at Doe Run is located just outside of Philadelphia where they produce some exceptional cheese and it was no surprise this one is so successful, as it is heavenly to have on your tongue. This natural rinded "Reserve" Alpine style cheese was aged between 12 to 24 months has a wonderful flavor that reminds me of exceptional goudas from L'Amuse. This beautiful wedge came with veins of crystalized strata producing a toffee, roasted nut and pineapple flavor profile. When I cut down the generous chunk they sent me to paint, I decided to enjoy the thin flame-like wedge I cut from it. The fiery glow really shows off the complexity of this beautiful artisan cheese accomplished. I love this cheese!

Origin: USA, Pennsylvania
Availability: sold
Items Available for Purchase: