Navigation:
Show Series:
Sort by:
View Artwork:
Merry Goat Round, Spruce Reserve
oil on wood, 12x12"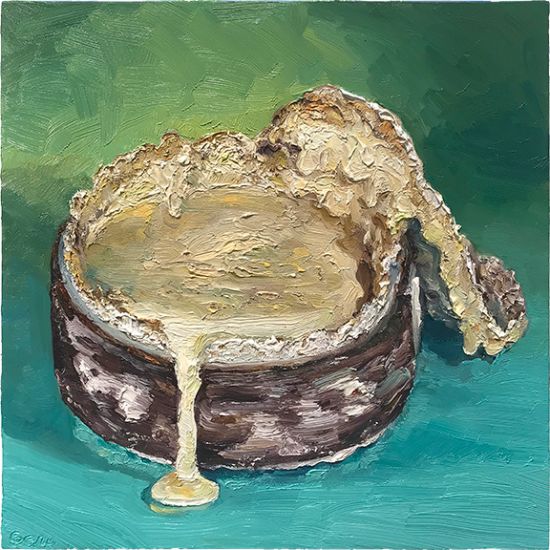 From the Cheese Portraits series.
I painted a younger, more innocent model of Merry Goat Round a couple years ago. It's a delicious creamy brie-like subject which I loved painting and eating (of course). This year however, Firefly Farms celebrated their 15th anniversary with this special version of the the round, taking it from heavenly to sinful.

The "Spruce Reserve" round is wrapped in a natural spruce bark strap, hugging the wheel in place as you are likely to devour its contents the moment you slip off its top. The extra aging gives this goat cheese a seductive soupy, almost fondue consistency, that is incredible to dip right into. The pool of cheese is mind-blowing at room temperature.

This was SUCH a fun painting for me. I knew the moment I saw it and made eye contact across the room that we were destined to have a fling. Bringing it back to the studio, I tilted the shelf it lay upon so there would be that slow trickle, oozing, money shot of uncontainable cheese release (is it hot in here?).

Go get it on for yourself. But, remember people, play safe; be sure to take off the wrapper before eating.
Origin: USA, Maryland
Price: $800
Additional Image: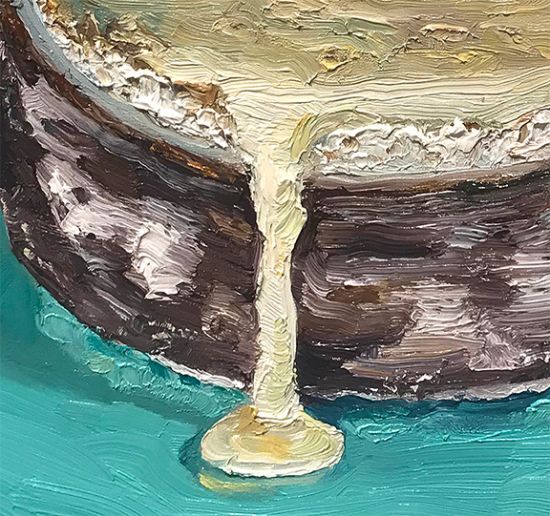 Detail View: