Navigation:
Show Series:
Sort by:
View Artwork:
Buff Blue
oil on wood, 8x8"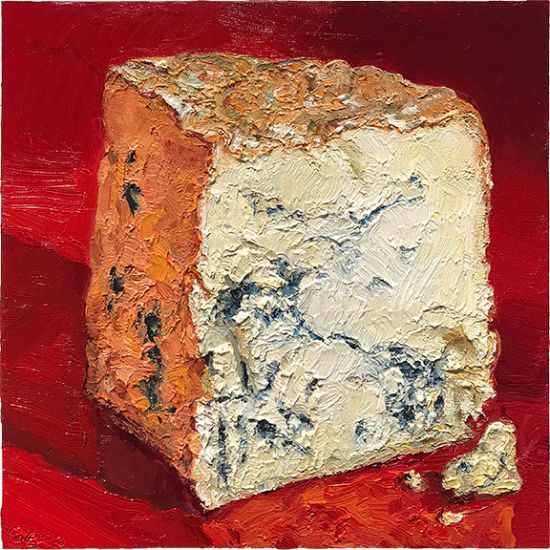 From the Cheese Portraits series.
I am so glad to have finally received a wheel of this rare raw milk treat from Tomales, California. Bleating Heart Cheese, a micro creamery, made this champ, the Best of Show 2nd place winner from 2016's annual American Cheese Society's Conference Competition where it beat out almost 2000 cheeses. It's the only buffalo milk blue cheese made in the United States. Buffalo milk is much more difficult to produce and rare to get, though it has a luxuriously high fat percentage which certainly makes an indulgent blue cheese to cherish.

Cheesemaker, Seana Doughty, sent me one of their very last wheels of the year which made the long journey across the country to my studio, and she seemed a bit anxious about it. This Buff Blue wheel "is well past its usual selling age", she said. Most wheels sell at 6 months old, maybe as late as 9 months, and this one is almost a year old. Seana expressed concern it wouldn't be as bright and perfect as it should be due to its age. While I trust the maker's judgment, as I would on my own work, I have to say that this cheese is incredibly beautiful to look at and even better to eat. There's definitely some California Sun left in this mature wheel. Though the rind might be a bit funkier than intended, it certainly had no bad affect on the cheese, and while the paste tended to crumble it certainly wasn't dry. I found myself amazed at how this light, creamy blue cheese is beautiful on the tongue, addictive as any good chocolate and indulgent as a cheese can be (I should confess, I am particularly in love with blue cheese to begin with). It's quite obvious why it's won so many awards since its creation in 2014, and each award better than the last. Go get some if you can!
Origin: USA, California
Availability: sold
Items Available for Purchase: