Navigation:
Sort by:
View Artwork:
The Redhead and The DJ
oil on wood, 10x10"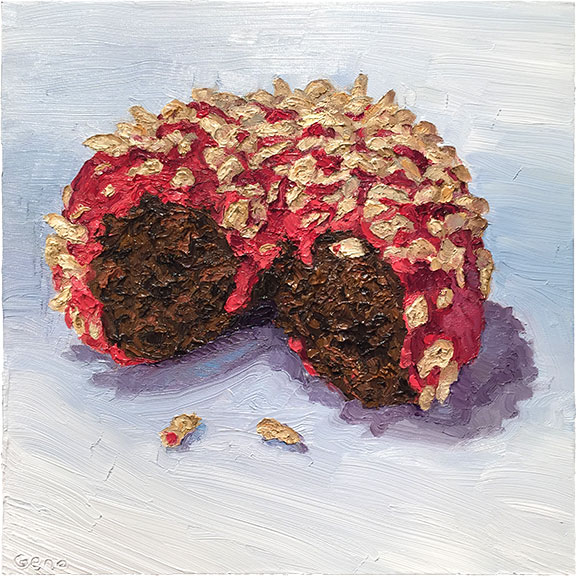 This is a special donut in more than one way. Firstly, it's from Federal Donuts and it's really delicious. Secondly, it's designed, named and dedicated by Benjamin Long, as a memorial for both his late wife and also his brother-in-law. Ben's wife, Lara Long was a very close (and very missed) friend of mine who was always associated with things of good style,well designed and often vintage as she ran a popular online business "Plaid Pony Vintage". Her brother, Adam Goldstein was also known as "DJ AM" and like Lara, often was working to help others without recognition or hype. Ben donated generously to the successful Rooster Soup Co. kickstarter that will perpetually help feed the homeless in Philadelphia. He designed this chocolate donut to represent a vinyl record of Adam's, the red icing as a nod to Lara's signature red hair and topped with rice-crispy-like treats which tied thematically to both Lara's affinity for vintage and Adam's investment in a rice-crispy like snack business. Both of the honored would appreciate donuts and especially helping others for they were both very generous and undoubtedly would be proud to support the cause here. I really enjoyed thinking happy thoughts about Lara while painting this donut. Also, it's really delicious. The raspberry icing perfectly balances the rich/moist devils food cake donut.

If you knew Lara or Adam, and happen to stop in at Federal Donuts during the month of June of 2015, pick one up and enjoy a good thought about how this donut helped others while also honoring two quality native Philadelphians that made the world better while they were here.
Origin: USA, PHILADLPHIA
Availability: sold