Navigation:
Show Item Type:
Sort by:
More Items:
Related Items:
Fork & Knife
oil on wood, 17 x 10"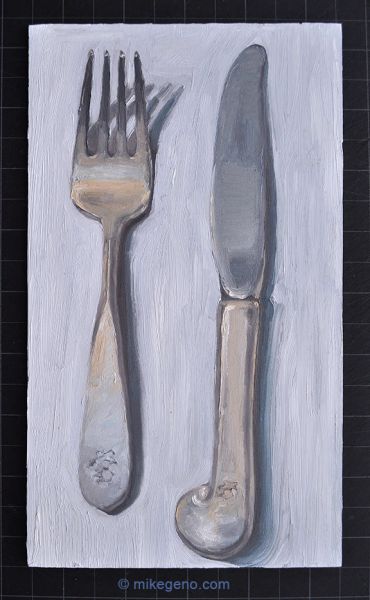 Catalog Number: forkandknife
Item Category: Misc. Items
I found this old still life painting of my favorite knife and fork. Years ago I enjoyed painting things for the pure enjoyment of their form. For some reason, growing up, my family always had a bunch of these knives and forks which have the logo of the "Philadelphia Cricket Club" on their silver handles. I assume someone "borrowed" these and they ended up in our family junk drawer. I held onto a pair since moving, because I just love their shape. Plus, they're an homage to a local middle class thievery, no doubt.

This painting is oil on wood panel (panel is only 1/16" thick poplar wood).
Price: $300
Additional Images: