Navigation:
Show Item Type:
Sort by:
More Items:
Related Items:
Evil Bunny
oil on wood, 11 x 8.5 x .75"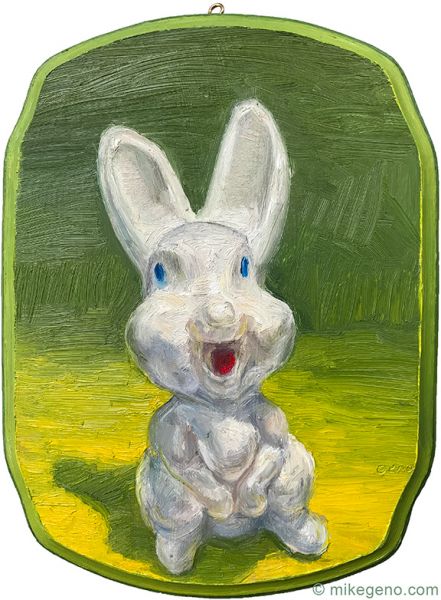 Catalog Number: EB01
Item Category: Older Paintings
I recently posted a couple small paintings of this bunny. I love him; he's like Disney cute or Tim Burton evil... you can choose for yourself. You know my choice.

This handsome model is a vintage Gurley brand wax novelty candle I found at a thrift store and I painted him three times... before an extremely hot summer in my studio melted him enough that his head leaned back in a terrifying laugh pose that I had trouble sleeping. The other two portraits of him are also available in my website store page.

This older plaque painting was part of an experiment, working on shaped wood plaque surfaces. This one is painted with matching trim sides and ready to hang. There's no need for framing!

This is priced extremely low for an original oil painting of this quality, that it's a fraction of my normal price. So enjoy the chance to nab an original for a third the price!




Price: $250
Additional Images: