Navigation:
Sort by:
View Artwork:
Hooligan
oil on wood, 8x10"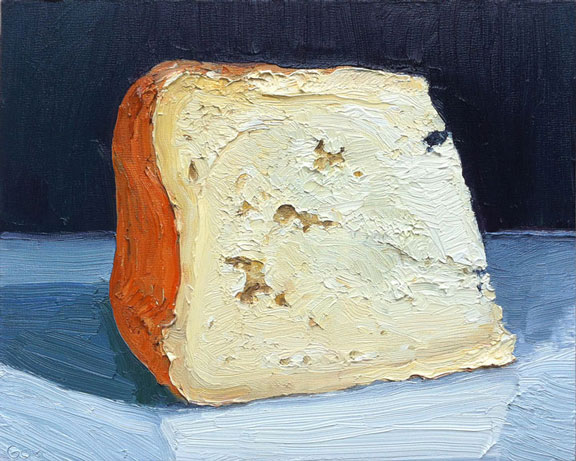 This is a tasty cheese from Cato Corner Farm, in CT. It's a bit stinky and tangy and at the same time pretty mellow and therefore easy to eat. I got this small little wedge to add to a cheese board but never had to the chance to use it. So I painted it and of course.. ate it as soon as I finished the painting.
here's some info from the Cato Corner Farm's site:

"Made in 1.5 lb wheels, Hooligan is a ripe washed-rind cheese with a soft creamy interior and a gorgeous orange rind. Hooligans are bathed twice a week in brine to encourage the growth of pungent, surface-ripening bacteria. The Hooligan melts beautifully for a fabulously stinky toasted cheese (a bit like raclette). Sold whole in small wheels with basket lines on the rind. Aged 2 months."

Country of Origin: USA, Connecticut
Availability: sold