Navigation:
Show Series:
Sort by:
View Artwork:
Pleasant Ridge Reserve
oil on wood, 10x10"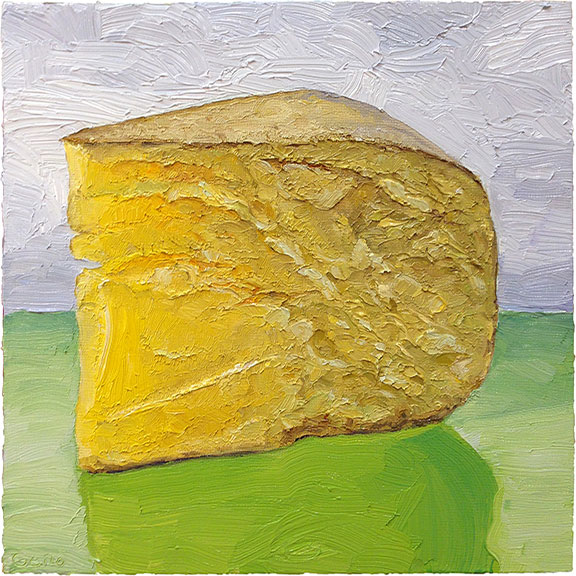 From the Cheese Portraits series.
This is a "champion" cheese and it comes from Uplands Farm, in southern Wisconsin. Pleasant Ridge Reserve has been awarded the American Cheese Society's Best in Show three times in 2001, 2005 and 2010! No other cheese has that honor.

While out and about shopping for cheese with a very good cheese friend, we realized I hadn't painted this and it seemed like fate that we stumbled onto an extraordinarily interestingly textured wedge. Prior to starting this painting, I looked up Upland Farm's website. I was struck by their relationship to the landscape and decide to translate this portrait into a sunny pasture.

I found this fun description at thecheesepeoplebeloit.com: "It is made only 5 months each year on a farm near Dodgeville, WI and only when the cows are outside grazing on manicured fields (the makers mow the pasture!) Washed and turned weekly it's entire life at the farm and we hear they even read excerpts from The Grimm Brothers to select wheels if they've developed just the right hue of mountain stone. Again, a masterpiece in all aspects and an excellent example of preserving the uniqueness of a certain terrain, in edible form."
Origin: USA, Wisconsin
Availability: sold
Items Available for Purchase: