Navigation:
Show Series:
Sort by:
View Artwork:
Canarejal Cremoso
oil on wood, 12x12"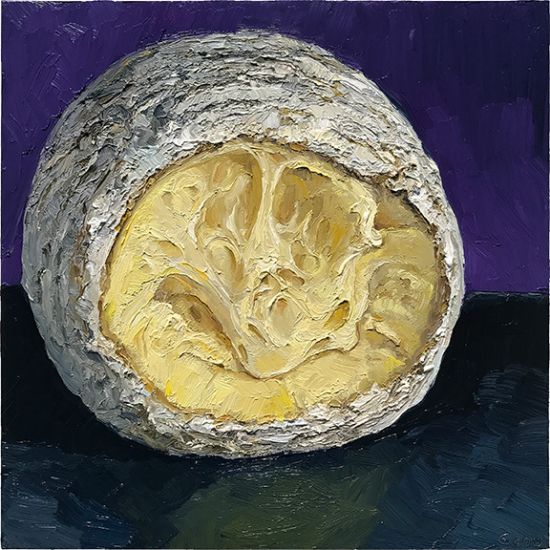 From the Cheese Portraits series.
"Canarejal Cremoso" is a complex raw sheep's milk cheese made with thistle rennet; it's a silky-textured torta-style cheese (served as a centerpiece for sharing), and it's wonderful. I was introduced to this rare Spanish treat by Jaime Guerra, the manager of Despana Fine Foods & Tapas cafe in NYC. I asked Jaimie for something rare from his assortment of imported gems and he handed this drum shaped wheel encased in a protective box. In warmer weather I expect it would be quite soupy, like a wheel of fondu. Jaime suggested I paint it on its side, so it could ooze out, luxuriously. My studio's winter climate helped slow down that process and make for some fun painting. It was ever changing, yet slowly enough for me to keep up and decide exactly which stage of relaxed state I wanted to capture in this cheese portrait.

The wheel is traditionally served with the top cut off, leaving the contents to be scooped and dipped into. When I pulled the top off, the cheese paste created a fun moon-like surface. As that slowly slumped while I painted away, it became this funhouse elasticized cheese that drooped and oozed and flirted with me all day. It made clear one thing, I need to eat more cheese from Spain.
Origin: Spain
Availability: sold
Items Available for Purchase:
Detail View: