Navigation:
Show Series:
Sort by:
View Artwork:
Sliced Bagel
oil on wood, 10x10"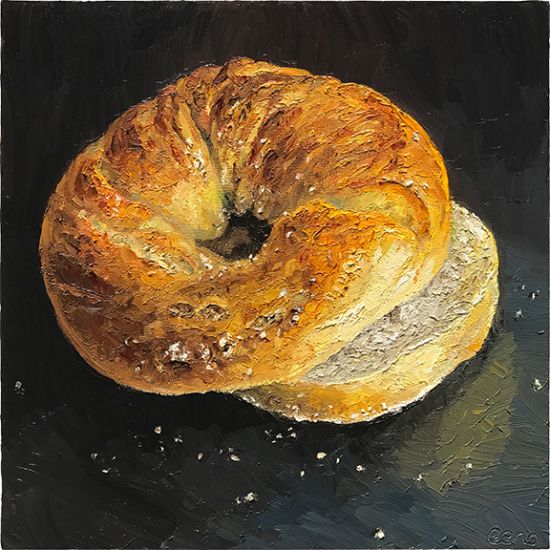 From the Bread series.
This is another local food painting as this bagel was made close by my studio at Philly Style Bagels, in the Fishtown neighborhood of Philadelphia. I've been wanting to paint this since it was an image that popped into my head a while ago and it gave me an excuse to go get some delicious bagels. The vision I had was to get nice and intimate with the surface of another beautiful bread form; and let's face it, the bagel is like the American answer to the croissant (I know America didn't invent the bagel, oy!). I love the surface and textures that make the act of eating distinct and gratifying. FYI: I decided to include the tiny bits of what I'm guessing is cornmeal that were likely coating the bagels to keep them from sticking to the pans in the oven.

This young start-up hit gold the moment they opened, selling out each day their fresh high quality bagels. Their "Classic Lox" bagel was even named Sandwich of the Year by Bonappetit Magazine. On their website they explain: "Inspired by tradition, Philly Style Bagels are slow fermented in small batches, hand rolled, and boiled before baking, but with an innovative process that bends the rules of bagel making."

Origin: Philadelphia, PA
Availability: sold
Items Available for Purchase:
Detail View: