Navigation:
Show Series:
Sort by:
View Artwork:
Hopelessly Bleu
oil on wood, 12x12"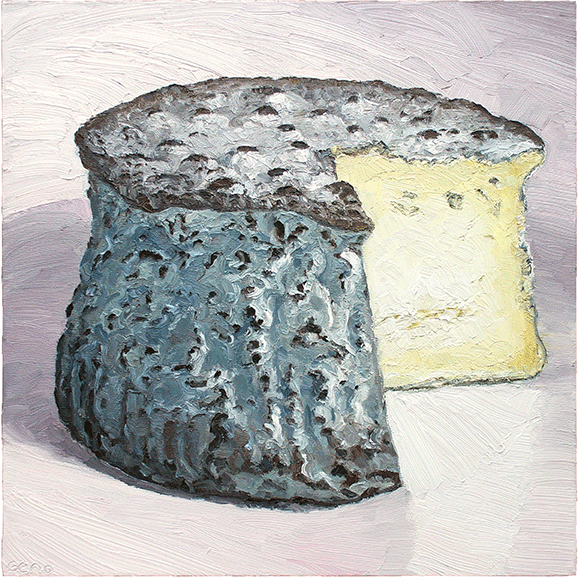 From the Cheese Portraits series.
This stunning wheel of Blue-veined and blue-rind goat's milk cheese come from Pure Luck Farms, which is just outside of Austin, Texas. When it was sent to me from Houston Dairymaids which features artisan cheese from Texas, I was a bit taken with the disrobing of my model. The seductive rind reminded me of scenes of Beetlejuice, with it's bold and wild patterned ripened rind as if leopard spots were in a lava lamp. The white top surface contrasted with rising mini-mounds that are black topped only added to the surreal playfulness that put hearts in my eyes the moment I unwrapped it. There was no doubt that the rind needed to be the star of this show. The cheese paste was beautiful but with minimal blue-ing, so I had the model turn slightly away from me so I could admire from behind.

Having cut a wedge out to start, I had the pleasure of snacking on this deliciously creamy and super mild cheese while painting it. It was sustaining and indulgence at once.
Origin: USA, Texas
Availability: sold
Items Available for Purchase: