Navigation:
Sort by:
View Artwork:
Wasabi Lobster Roll
oil on wood, 12x12"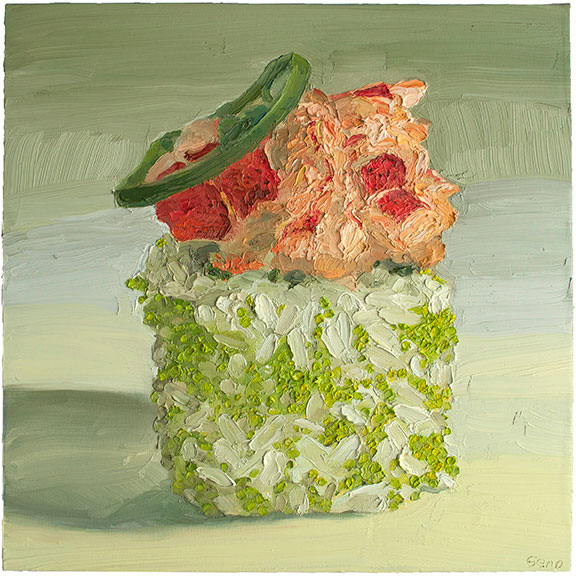 Roll: Shrimp california roll rolled into wasabi tobiko, topped with a maine lobster salad(lobster, masago mayo, mango anf cucumber) and a soy pickled jalapeno. Sauce is mango mint honey sauce with a little chili.

I stopped by Zama Restaurant again for some more great sushi since the manager was enthusiastic about offering worthy subjects for this painting series. When I asked if there was a signature roll the chef would like for me to paint, he offered this delicious subject. I have to admit, it was a little intimidating when I first saw it. The only choice with a subject as complex as this is to have the color mixed quickly before it changes from the room temperature. The vibrant colors of the lobster salad against the jalapeno halo and the whole thing rolled in wasabi tobiko was a fun challenge.

The reward was eating the other pieces from the roll afterwards. I look forward to eating a lot more at Zama.
Availability: sold
Items Available for Purchase: