Navigation:
Show Series:
Sort by:
View Artwork:
Grevenbroecker
oil on wood, 14x11"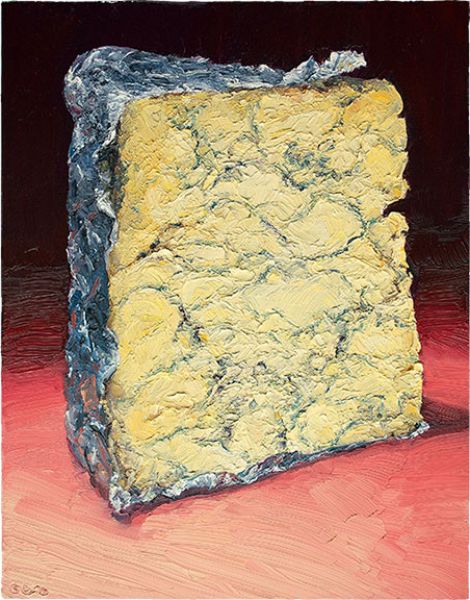 From the Cheese Portraits series.
A strikingly beautiful marbled bue, this is a raw milk cheese by Peter and Bert Boonen from their dairy located in Hamont-Achel, in the Flanders region of Northern Belgium.

I suppose it might've been amusing if anyone saw my head whip back after a passing glance at the cheese counter of the Salumeria in the Philly's Reading Terminal Market. I couldnt pronounce it, but was determined to try some and then brought a sliver to a party and it was almost too good to share. I've been meaning to get back and purchase a model-sized wedge that I could paint but I kept putting it off, til now!
What makes this blue special is it's incredible blue veining. It essentially mimics a beautiful slab of marble that Michelangelo himself wouldn't pass up. It's clear by looking at these beautiful lines that the mold is not shown easy passage via spiked holes but clearly the curds were so loosely packed and probably coated with the penicillium strain of choice that the curds were not pressed to the point of removing the essential air the spores need to grow. As a visual person, I love when this happens.
Origin: Belgium
Availability: sold
Items Available for Purchase:
Detail View: