Navigation:
Show Series:
Sort by:
View Artwork:
Chandoka Wedges
oil on wood, 14x11"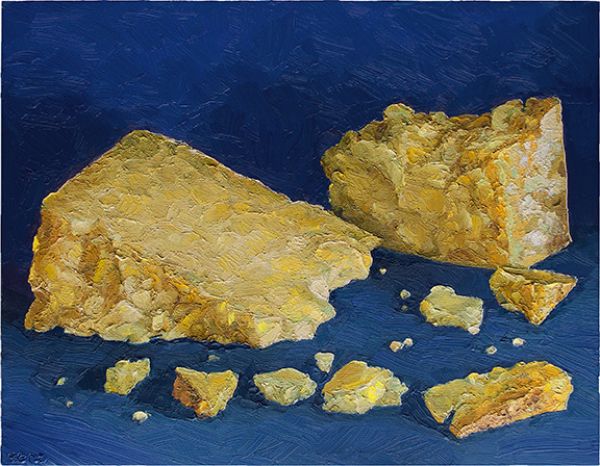 From the Cheese Portraits series.
Having fell in love with this incredible cheese the first time I painted this award winning cheddar, I knew I had to revisit it. I needed to explore in a larger painting with the change of colors and all it's glorious crumbly texture. It turned out to be quite a long painting day though, because my model became more beautiful and its colors more pronounced as I worked. In fact, this one took over 12 hours! I suppose I made my job a lot bigger by the complex set up. The wedge became two when I broke it in half, while deciding on the staging of this composition. The crumbled pieces lay like evidence of an explosion. Even after 12 hours under my lamp, these small bits tasted just as delicious. This image of the painting here doesn't really pick up the range of colors or all the subtle shifts that I focused on. I will likely have to rephotograph it once it's dry.

This is highest ranked cheddar in North America for 2015, having won the American Cheese Society's "Best in Show, 2nd place" award, with over 1,700 competing cheeses. See my other painting for more information.
Origin: USA, Wisconsin & Illinois
Availability: sold
Items Available for Purchase: