Navigation:
Sort by:
View Artwork:
Crottin d'Ecole
oil on wood, 9x12"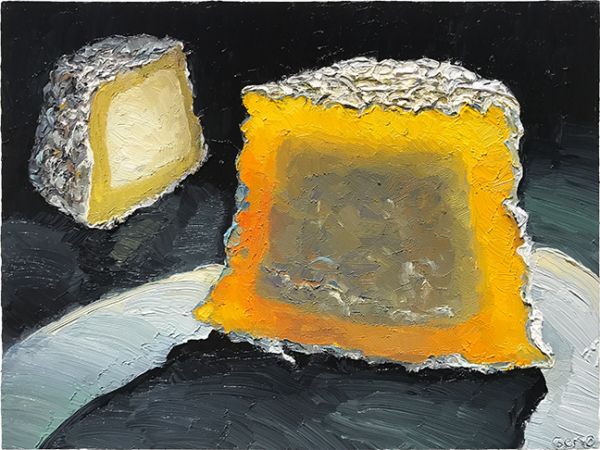 "Crottin d'Ecole" aka "school cheese", is a beautiful little cheese button made for a teaching demonstration by Peter Dixon, acclaimed artisan cheese maker, consultant, owner of Parish Hill Creamery and essentially one of the most respected cheesemaking schools in the country: Westminster Artisan Cheesemaking.

While in the Philadelphia area teaching, I was fortunate to have Peter and Rachel, his beautiful cheesemaking wife, join a group of cheese friends at my house. This is one of the benefits of having such friends; cheese gifts!

This specific specimen was made from raw cow's milk from the Putny School at Elm Lea farm, in Vermont. It was made for an "advanced bloomy and washed rind" workshop. It continued to age in my studio fridge for over a month before I remembered it was in there! I cut it open and discovered that when back-lit, this halved wheel glows like a soft boiled egg. I was instantly charged with the need to paint it.

Country of Origin: USA, Vermont
Price: $700
Detail View: