Navigation:
Show Series:
Sort by:
View Artwork:
Great Hill Blue
oil on wood, 10x10"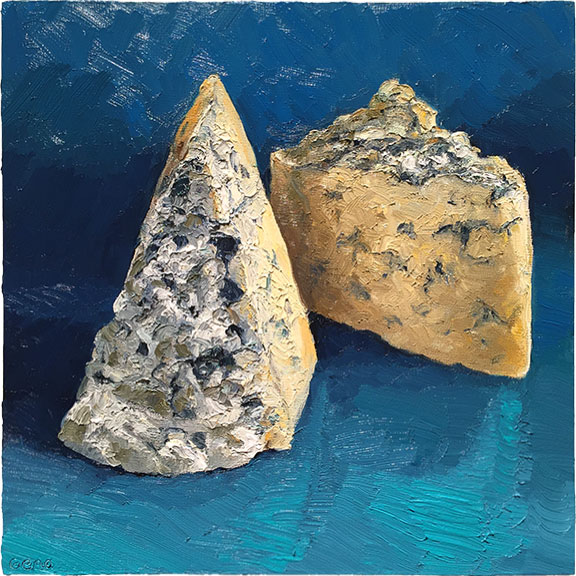 From the Cheese Portraits series.
This here's a powerful blue cheese that's made "on the shores of Buzzard's Bay, 50 miles south of Boston" at Great Hill Dairy. In the mid-90's Tim and Tina Stone started making the only raw milk blue cheese in the U.S. They refer to it as "Gourmet Non-homogenized Raw Milk Blue Cheese" as Ive learned basically "non-homogenized" was something uncommon at the time of it's inception. As raw-milk blues are more common now, I've learned that it's a given, that it's also "unhomogenized" for just about any small maker using raw milk.

It's a delicious blue you can't ignore. It's not wimpy and it's not a mellow-sleeper; this one has punch! It reminds me of a creamery version of Cabrales. The tangy, bite was great to experience at room temperature, after it sat patiently as my model in July temperatures :) - I decided to take the nice sized wedge I got from Wedge + Fig (cheese bistro) in Philadelphia, and simply break it in half so I could enjoy the craggy texture I love in blues. Plus, it was nice to get a 2nd Massachusetts cheese on the #cheesemap !


Origin: USA, Massachusetts
Availability: sold
Items Available for Purchase: