Navigation:
Show Series:
Sort by:
View Artwork:
Prairie Sunset
oil on wood, 18 x 18"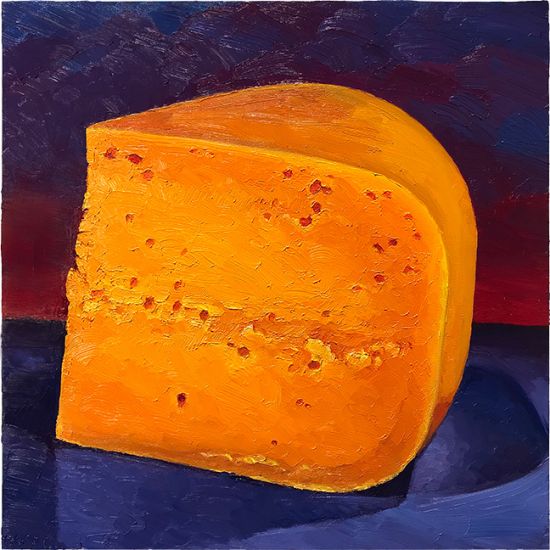 From the Cheese Portraits series.
Inspired by the sweet midwest sunset, this American Original cheese is colorful and addictive. Marc Druart, the cheesemaker at Roth, sent me this gift of annatto colored mellow tasting cheese. The strong color doesn't mean a strong flavor but it's certainly delicious, especially as it gets to room temperature. I found myself eating about a half pound wedge, piece by piece, as I worked through this long day of painting it. This cheese is mildly nutty, creamy and just the right balance of milky tangy that keeps it interesting.

As I painted this larger cheese portrait, I found my colors getting deeper and with dozens of reds and oranges mixed on my palette, I couldn't help but paint the background a bit like a late day violet sunset. Mostly I wanted the strong light I cast on it to translate just how stunning this cheese is in person.


Origin: USA, Wisconsin
Availability: sold
Items Available for Purchase:
Additional Image: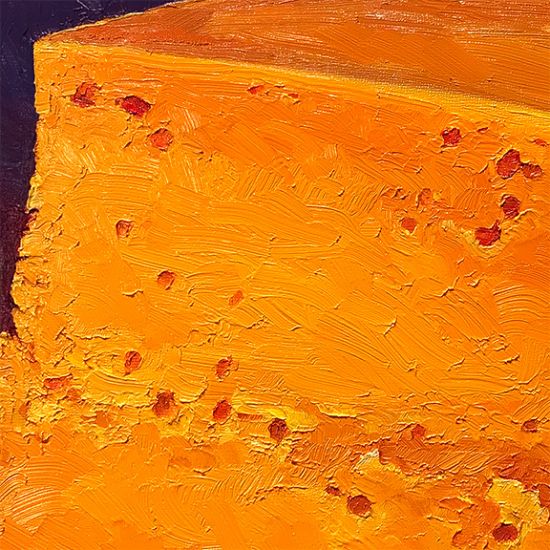 Detail View: